AutoTech: Europe 2022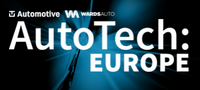 Championing AutoTech Transformation | Desirability, Feasibility, Viability
The automotive industry is in flux and going through another unprecedented paradigm shift; electrification, decarbonisation, sustainability, new software technologies, new incumbents, not to mention supply shortages, COVID and the War in the Ukraine all contributing a systemic industry shakeup.  The goals posts are shifting, driving the auto industry to rethink its entire business strategy and be more agile. 
Automakers and Tier 1s are becoming Software Developers, Software Developers are becoming Tier 1s. Industries traditionally separate from the auto industries are becoming automakers.
To compete and to stay relevant, the industry needs to transform the way they think, their future strategy, and how they collaborate.
AutoTech: Europe will focus on the future, the new digital, consumer focused, connected auto industry.
What can be and what is coming around the corner? Visit Here
Event Properties
| | |
| --- | --- |
| Event Date | 15 Nov 2022 |
| Event End Date | 16 Nov 2022 |
| Name of the Organizer: | Informa |
| Person of Contact | |
| Location | Munich, Germany |